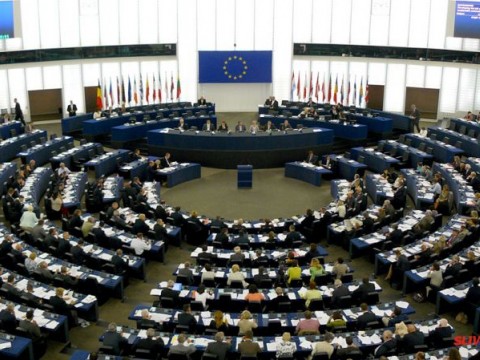 Parliament to vote on new EU rules for packaging and packaging waste
MEPs will debate on Tuesday and adopt their position for negotiations with EU governments on Wednesday on new rules to reduce, reuse and recycle packaging in the EU.
New EU rules to make repairs easier and more convenient
Parliament is set to adopt its negotiating position on new rules promoting the right to repair and more sustainable consumption of consumer goods.
Pesticides: MEPs to vote on cutting use and risk of plant protection products
Parliament is set to adopt its position ahead of negotiations with EU governments on measures to reduce the use and risk of plant protection products by 2030.
European elections: MEPs to vote on proposals for the lead candidate system
The proposals for the 2024 elections include a mechanism to elect the Commission President, as well as ways to increase turnout and enhance democratic processes.
Future of the EU: MEPs to vote on draft proposals for Treaty reform
On Wednesday, MEPs will put forward draft changes to the EU's core rules, following up on the Conference on the Future of Europe and reacting to unprecedented challenges.
The regional and global implications of the war in Gaza
On Wednesday morning, MEPs will discuss the humanitarian situation in Gaza, the need for the release of hostages and for an immediate humanitarian truce leading to a ceasefire.
Plans to boost Europe's Net-Zero technology production
MEPs will discuss on Monday and vote on Tuesday on draft legislation to bolster Europe's manufacturing output in technologies needed for decarbonisation.
MEPs to discuss the delivery of promised ammunition to Ukraine
On Tuesday afternoon, MEPs will quiz the Commission on where the EU stands on its commitment to provide one million rounds of artillery ammunition to Ukraine.
MEPs to vote on new measures to reduce air pollution from trucks and buses
Parliament is expected to adopt its position ahead of negotiations with EU governments on new EU CO2 emission standards for new buses, trucks and trailers.
EU values in Hungary: MEPs to take stock of recent developments
On Tuesday, MEPs will assess the continuing threats to the rule of law, judicial independence and EU funds in Hungary.
Rule of law in Spain: MEPs to assess the governmental agreement
Parliament will look into the scope and impact of proposed legislation to grant amnesty to hundreds involved in Catalonia's pro-independence movement over the last decade.
Day for the Elimination of Violence Against Women: MEPs debate developments
MEPs are set to urge progress on talks for EU rules tackling the scourge of gender-based violence, and insist on the inclusion of a consent-based definition of rape.
Spyware: MEPs to grill Commission on inadequate response
In a debate on Wednesday, MEPs are set to press the Commission on the lack of adequate legislative follow-up to Parliament's inquiry into the use of Pegasus and other spyware.
Cyprus confidential revelations: MEPs to quiz the Council and the Commission
In light of the latest revelations on money laundering and evasion of sanctions against Russia in Cyprus, MEPs will discuss counter-measures on Wednesday.
MEPs to demand more robust implementation of children's rights
On Monday, MEPs will discuss the wellbeing and the protection of children in Europe, marking the International Day on the Rights of the Child.
EU Budget 2024: focus on research, youth, and external challenges
MEPs are set to approve a deal on next year's EU budget aimed at addressing global challenges and supporting young people and research.
Carbon removals: MEPs to vote on EU certification scheme to boost uptake
In a debate on Monday and vote on Tuesday, MEPs will set out their stance on a new EU certification framework for technological and natural carbon removals.
MEPs set to green light free trade deal with New Zealand
The EU-New Zealand free trade agreement includes for the first time sanctions in case of the infringement of climate and labour commitments.
Kenyan President William Ruto to address the European Parliament
On Tuesday at 11.30, the President of Kenya William Ruto will deliver a speech to MEPs in the Parliament's hemicycle in Strasbourg.
COP28: MEPs set to adopt their position ahead of global climate talks
MEPs will debate on Monday and vote on Tuesday on Parliament's demands for the 2023 UN Climate Change Conference (COP28), taking place in Dubai from 30 November.
"This is Europe" debate with Bulgarian Prime Minister Nikolay Denkov
Bulgaria's Prime Minister will address MEPs on Wednesday at 10.30 to outline his views on the challenges facing Europe and its future.
MEPs want to improve working conditions for artists and cultural workers
Parliament is expected to adopt a legislative report calling for measures to improve the social and professional conditions for those working in the cultural and creative sectors.
EU job seeker's aid worth €2.8 million for 421 dismissed workers in Belgium
Former employees of the retail chain Makro Cash & Carry, who lost their jobs following the company's bankruptcy in January 2023, should receive €2.8 million in EU aid.
MEPs to vote on Finnish and Belgian candidates for the Court of Auditors
Parliament will vote on whether to extend the mandate of Annemie Turtelbloom from Belgium and whether to back the new Finnish nomination Petri Sarvamaa.
Resolutions on human rights and democracy
Parliament will hold urgent debates on the following human rights, democracy and rule of law topics on Wednesday afternoon, followed by votes on Thursday.
<a href="https://www.europarl.europa.eu/news/en/agenda/briefing/2023-11-20/25/other-topics-on-the-agenda">Other topics on the agenda
Other topics on the agenda